There's nothing quite like a beautiful floral arrangement to brighten up any home, office, or special event.
We've spent years crafting gorgeous floral designs for all kinds of events and occasions.
Let us introduce you to three of our favorite blooms that are sure to create a stunning, unforgettable floral design: roses, peonies and dahlias.
These spectacular flowers will add an element of gracefulness and beauty to any arrangement.

Red Roses En Masse
Roses
Roses are a classic and timeless choice for a bouquet. They are known for their beauty and versatility, making them a perfect fit for any occasion.
Whether you're looking for a romantic gesture or a way to brighten up a friend's day, roses are the perfect choice.
With their delicate petals and varied colors, roses add a touch of elegance to every floral design. Plus, their sweet aroma is sure to delight the senses.
Red roses are often associated with love and passion, while pink roses symbolize love, gratitude, and appreciation. Yellow roses are a sign of friendship and joy, and white roses represent purity and innocence.
In addition to their symbolism, roses are also known for their long-lasting nature. They can remain fresh for several days when properly cared for, making them a practical choice.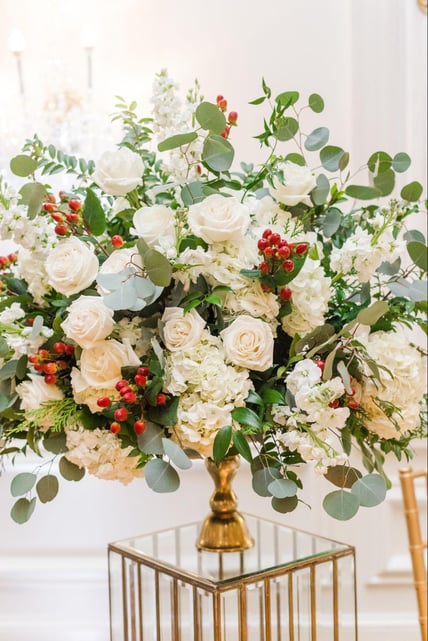 Every rose has a unique petal count, which influences the amount of texture and aesthetic appeal.
While some varieties may be more open with fewer petals, others can remain tightly wound for days before blooming fully.
There are an astonishing number of roses available in so many different sizes and shapes - over 400 standard roses alone! And that doesn't even include all the countless English garden roses or tea (spray) varieties out there too.
Overall, roses are a fantastic choice for floral designs due to their beauty, symbolism, longevity, and year round availability. They are sure to make a statement and bring joy to any recipient.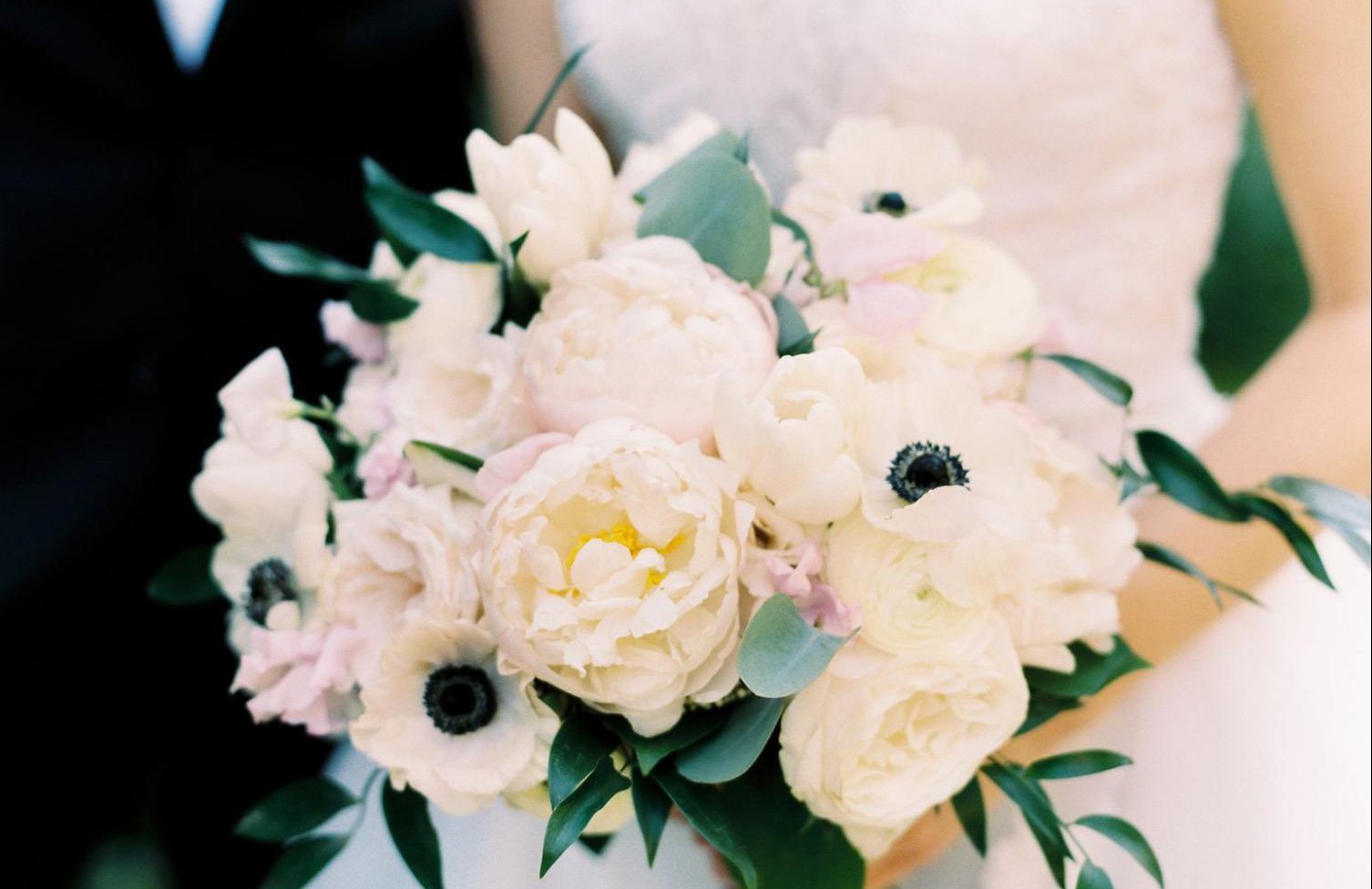 Blush Peonies
Peonies
Peonies are a popular choice for bouquets due to their stunning appearance and delicate fragrance. We consider them the 'grand-mother' of all flowers.
These show-stopping flowers come in a range of colors, including shades of pink, coral, red, white, and even yellow. Peonies are known for their large, fluffy blooms that are perfect for adding a romantic touch to any bouquet. They have that straight-out-of grandma's garden look.
In addition to their aesthetic appeal, peonies also have a long vase life, making them a great choice for events such as weddings where the bouquets will be on display for an extended period of time.
These flowers are also relatively easy to find, as they are available from most florists and can often be grown in home gardens.
Peonies also have a symbolic meaning of prosperity and good fortune.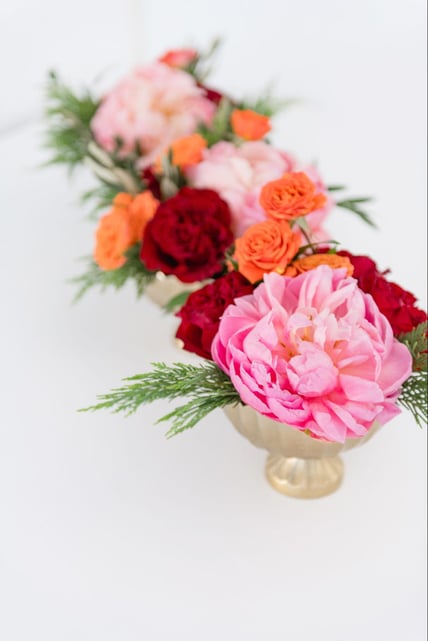 They are a versatile choice, as they can be paired with a variety of other flowers to create a stunning arrangement, or stand alone.
Whether you want a romantic, traditional bouquet or a more modern arrangement, peonies are a great choice.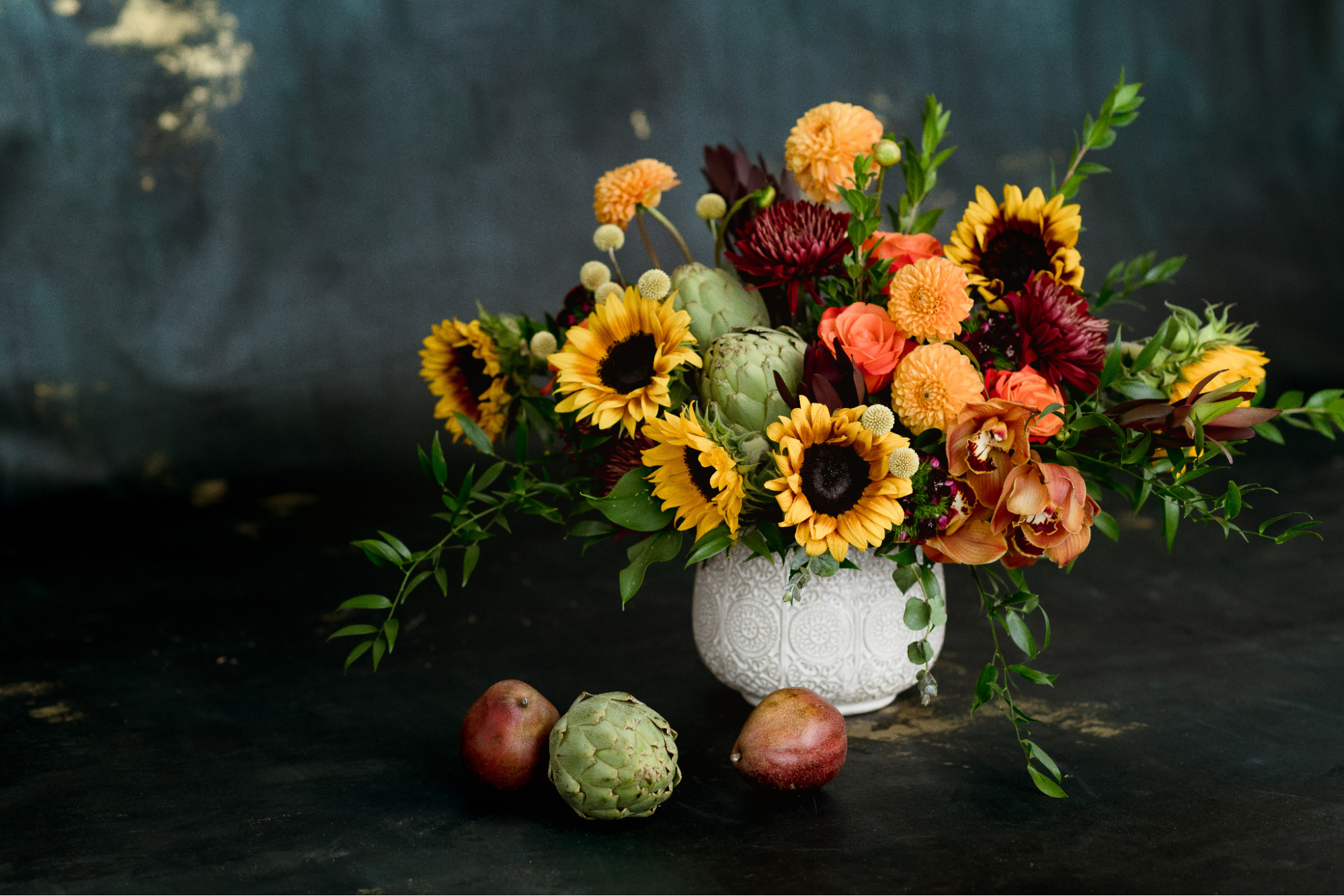 Orange Cushion Dahlias
Dahlias
Dahlias are a beautiful and versatile flower that are perfect for adding to a bouquet. They come in a wide range of colors and sizes, making them easy to match with any wedding or event theme. They also have a unique shape and texture.
Dahlias are star shaped, round or daisy-like in appearance.
They range in size from the size of a dinner plate to the size of a half-dollar. Varieties include pin-cushion, daisy, ball, cactus and dinner-plate.
They come in very vibrant colors such as red, pink, orange, yellow, purple, burgundy, white and champagne.
Dahlias are fragile and can sometimes have a short vase life, great for wedding bouquets, but not something I would suggest for arrangements that need to last many days.
Conclusion
When it comes to selecting the perfect flowers for your bouquet, there is no shortage of options. Whether you opt for roses, peonies or dahlias - each flower provides its own unique beauty and symbolism. While all three are lovely choices, they each have different characteristics that should be taken into consideration when making a selection.
For more inspiration on how to create a stunning floral arrangement with these beautiful blooms, visit J. Morris Flowers today. Our team of expert florists will help you find the perfect combination of colors and textures to make your vision come alive.