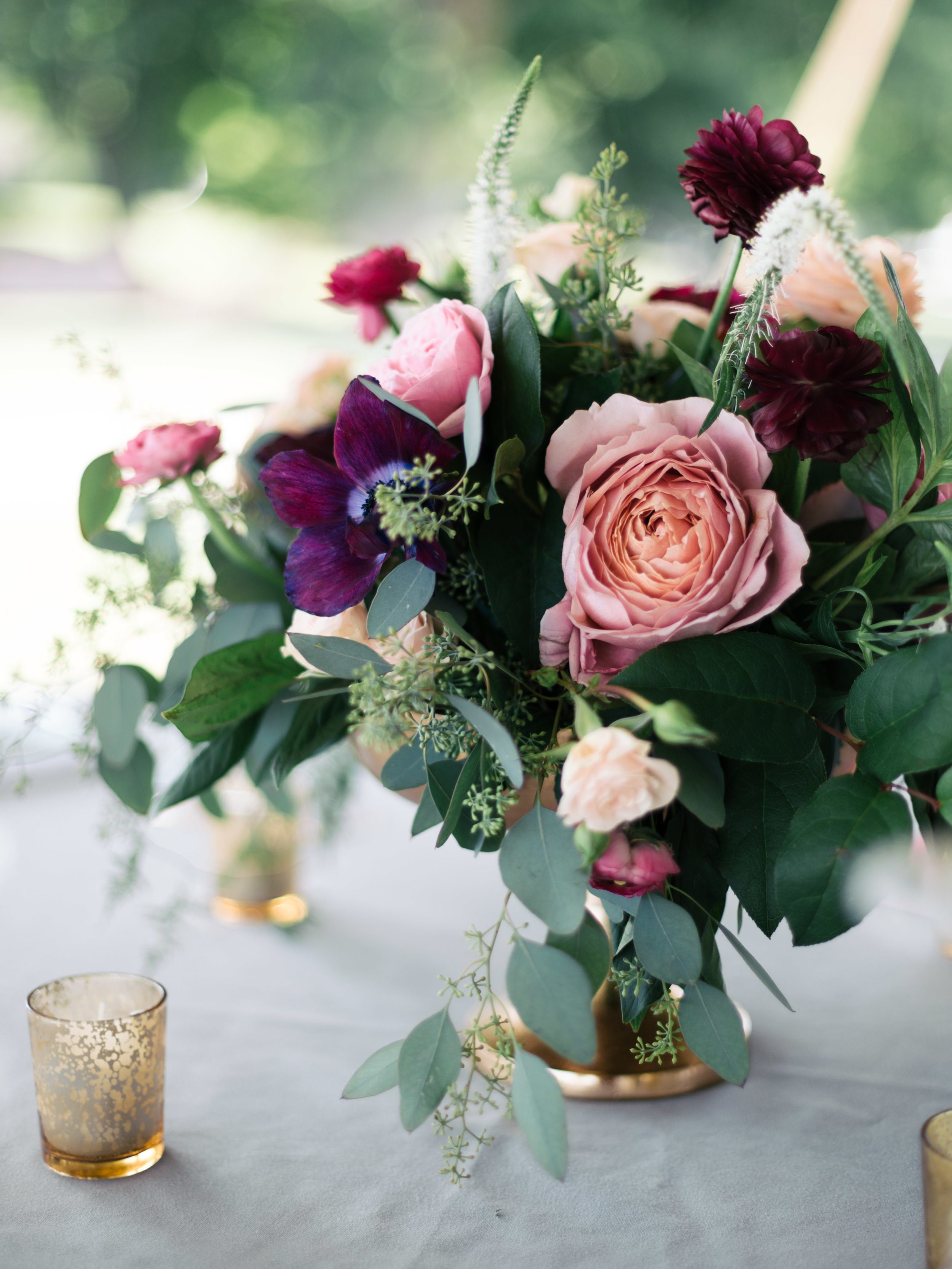 Bride's Perspective: Wedding Themes Merge For One-of-a-Kind Day
Kelly had done a lot of research and came to me with a very strong vision. According to Kelly, "I wanted the look to have a cool, relaxed vibe that expressed our personalities but was also timeless so that I would always be able to look back and love what I had chosen. I wanted it to be a little sophisticated and I wanted all of the décor elements to feel purposeful." Kelly chose a raised, black and white, lit dance floor for her tented reception. Her rental company provided crystal and porcelain edged with gold and silver cutlery. Her event designer laid a piece of So-Cal inspired fern at each place setting and we blended beautiful English garden blooms with greenery and grasses perfectly at home in a desert plateau environ.
Her color palette included all shades of pink (pale, blush, fuchsia and burgundy) and neutral colors (white, tan, grey) with pops of metallic and greenery. A great place for us to start. Kelly recalls, "The color would come mainly from the florals, dresses and a few décor items. I didn't want these elements to be overpowering but I wanted to make sure that some of the colors were bold. I looked for ways to add touches of each color like the soft pink velvet sofa and chairs in our lounge area."
Kelly's bridal bouquet was so much fun to make. We wanted this piece to really make a statement about her vision. The Panda Anemone, with their white petals and nearly black centers were the perfect choice for focal flowers. The softer pink and peach was achieved using Café Au Lait Dahlia, Juliet Garden Rose, Amaranthus and Ranunculus. For darker tones, we used a deep pink and wine-colored Anemone with dark midnight blue centers, O'Hara Garden Roses, Astilbe and more richly toned Ranunculus. The fern, Rice Flowers and flowering greens helped to blend the English garden and desert look that was her inspiration.
Kelly had twelve bridesmaids, and again, wanted to work with some subtlety. We designed "clutch" bridesmaid bouquets (a little smaller) that struck a balance between the soft dusty pink and peach and the richer jewel tones. The Snapdragons allowed us to create some really interesting shapes in the bouquets making the designs a little more organic. Because Kelly and Leo wanted a dramatic long table, we set sleek, gold, goblet vases at each bridesmaid's place setting for additional pops of color. Kelly recalls, "I wanted everything to feel different and unique. I didn't want a lot of uniformity. Each bridesmaid selected her dress from a pool of designs. It was so nice that each of their bouquets were just a little bit different."
The three centerpiece designs were the best place to marry the two distinct styles for the wedding. Greenery pieces are all the rage at major events in Southern California. I finished each of these arrangements with some natural grasses and Celosia in a soft pink. We used the gold stands because they have such a modern feel. Kelly only needed six of these lush, full designs rising above some of her tables to make a big impact in their tent, two of them flanked the long head table and four were centered on guest tables.
Kelly loved the idea of combining natural looking arrangements with more traditional designs. "I also liked the idea of combining the funky modern test tube centerpieces with the more classical lush centerpieces. It wasn't always about how many flowers we had in a centerpiece. My favorite centerpiece was the test tube, very simple with fewer flowers but a really impactful and fun visual effect. I liked that some of the tables were more minimalist." Kelly chose a gold compote vase for her English garden arrangements. The Vienna compote we used has a modern gold finish.
I studied the stems of the flowers in each design to make sure that each arrangement had a unique or interesting focal point. The pink O'Hara Garden Roses and deep pink Peonies were softened just a little by the depth of the greenery. I used the purple Anemone as a showcase bloom allowing for a little more space around each flower. Ranunculus stems bend in such meaningful ways; they poked out just a little from the shape of the design. Ivory Majollica Spray Roses create such lovely groupings and the leggier Astilbe helped to add dimension and cohesion with the taller centerpieces.
Kelly explains her motivation for creating three distinctly different centerpiece designs. "I wanted guests, as they moved around the tables, to be surprised by the different styles and I wanted something unique, that created more variety." The test tube bud vases were a great way to showcase the beautiful blooms that Kelly and I had selected. It was important to Kelly that I use Bells of Ireland, a leggier bloom with so much personality. The test tube vase showcased the most significant blooms in her wedding and highlighted her color palette.
Beyond the florals, Kelly carefully selected décor elements that were a combination of chic and classic. The vintage glass and gold box that held her programs paired with a more current set of greeting signs in a strong peach. The puffy, gold XO over the dance floor offered a modern feel above the vintage sofa and chairs. And who could forget the dance floor, fully lit in black and white, a perfect place for guests to let themselves go.
Vendors featured in this blog.
Photographer: Trent Bailey Studio
Laura Held, Ida Rose Events, Wedding Planner
Ryan Hayes, Hayes Street Society, Wedding Planner
Shannon Wellington, Shannon Wellington Wedding & Events, Event Designer
White Glove Rentals: Furniture
MS Event Rentals: Stemware, China and Cutlery
RELATED
Jennifer, owner of J. Morris Flowers in Leesburg explains how you should hold your bouquet to show...
---