When it comes to romantic wedding flowers, nothing can beat the classic rose. With its beautiful range of colors, sizes and varieties – from long-stemmed to English Garden Roses - roses are a timeless staple for bouquets that never go out of style. In this article, we will give you practical tips on how best to incorporate roses into your special day, as well as explore the fascinating history behind why they remain such an enduring favorite in weddings all over the world.

What Makes the Rose a Great Wedding Flower?
Roses are a classic wedding flower, and for good reason. They are fragrant, vibrant and distinct, all in one gorgeous package.
Roses have held symbolic meaning for as long as they've been on this planet, making them the perfect representation of eternal love you and your partner are pledging on your wedding day.
Whether it's an arrangement of single roses or an explosion of mixed blooms, these wedding flowers deliver beauty and timeless elegance that will leave a lasting impression on all who witness your wedding day festivities.
When it comes to crafting the perfect bridal bouquet, roses offer a wide variety of options. From traditional white rose arrangements to bold and eclectic compositions featuring an array of colors and types. There are 400 different colors of roses - the sky's the limit. A bride's individual taste should be at the forefront when making this special selection; allowing her vision for her big day to come beautifully alive in bloom.
If you're searching for a romantic flower that is guaranteed to make an impact, roses are the ideal option. Not only do they symbolize love and appreciation, making them perfect for any wedding, but their beauty speaks volumes.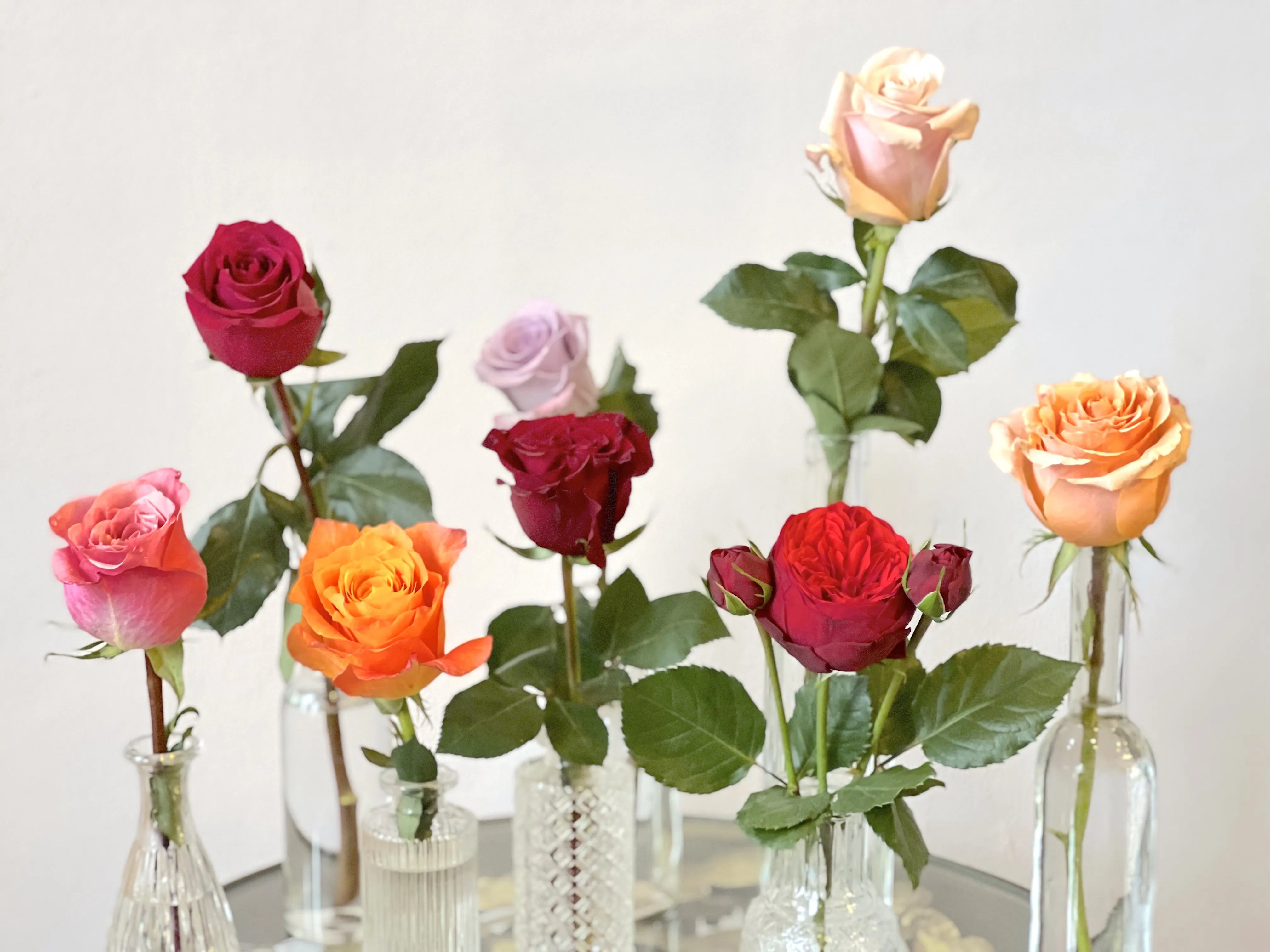 The History Behind the Rose
Roses have been a symbol of love and romance since ancient times. They were worshiped in Ancient Greece, where roses were associated with the goddess Aphrodite. The Romans believed that roses were created by Cupid himself – the god of desire and affection – when he accidentally shot one of his arrows into a white flower.
In Medieval Europe, roses were a symbol of chivalry, purity and hope. They featured prominently in literature, art and festivals. In the Victorian era, people began to attach specific meanings to different colors of roses; for instance, red roses represent love and white symbolizes innocence or new beginnings.
Today, roses are widely used in weddings to represent the bond between two lovers, and the joy and happiness of starting a new life together.
For all these reasons, roses are the perfect wedding flower. Whether you're looking for a timelessly romantic gesture or a beautiful way to show your love, consider incorporating roses into your special day. With their long-standing symbolic meaning and classic beauty, roses will make your wedding day even more memorable.

How to Incorporate Roses into your Wedding Day
The rose is the symbol of love and appreciation, making it the perfect flower to include on your wedding day. Here are a few tips on how to incorporate roses into your wedding day:
Use roses in your bouquet: Roses add a touch of elegance and romance to any bouquet.
Use roses in your boutonnieres: A rose boutonniere will add a touch of personality to your groom's look.
Use roses in your centerpieces: Roses make beautiful centerpieces that will add beauty and fragrance to your reception space.
Use roses in your cake: A rose-topped wedding cake is a beautiful and elegant way to finish off your wedding day.
Songs About Roses
Roses have created such an impact on the world, they even have their own songs. Here are some of the most popular rose songs ever recorded:
"Every Rose Has Its Thorn" by Guns N' Roses
"The Rose" by Bette Midler
"Love Is A Rose" by Neil Young
"A Rose By Any Name" by Blondie
"Mother Rose" by Patti Smith
"Roses" by The Chainsmokers
"Kiss From A Rose" by Seal
"For The Roses" by Joni Mitchell
"Spanish Rose" by Van Morrison
"Yellow and Rose" by James Taylor
Conclusion
Roses are the perfect choice for any wedding celebration. Not only do they add romance and beauty to your special day, but they also have a long-standing history of symbolism and meaning that will make your wedding even more memorable. From bouquets to centerpieces and songs, roses can be incorporated in a variety of ways to create the perfect wedding day.
J. Morris Flowers in Leesburg specializes in magazine-worthy rose flower arrangements. Together, we'll make your wedding vision come to life with beautiful roses. Contact us today to start planning your Wedding Flower Design Plan.