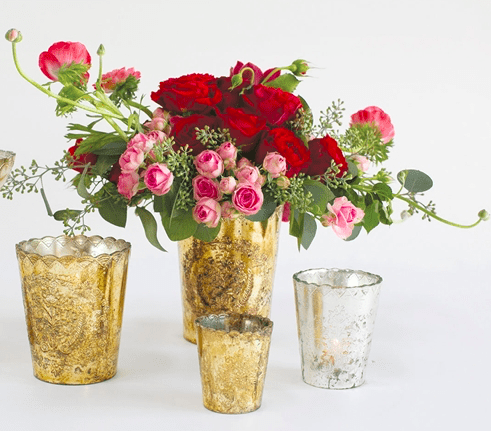 Gold Vases, Compotes and Stands for Weddings
I am always a fan of using metals in your wedding décor and gold remains very popular across all wedding styles. Once you've chosen the theme for your wedding, there are really endless combinations of florals and décor that we can use to support your vision. Executing your classical, romantic or bohemian style really happens during the design of your flowers. So, if you want to use gold elements for even your rustic wedding, then use them. We'll use flowers and design techniques that will captures that farm table feel.
And, of course, the style of your gold elements also helps us to achieve your goals. This blog shares examples of some of the best trends in gold hardware for 2018 and 2019 across many wedding themes.
The gold compote
Compotes come in a variety of styles including sleek modern, romantic-pretty and classical. Our rental inventory includes compotes in a couple of different sizes, a factor that will determine the price of your centerpiece. While some our truly metal (3), mixed metallic gold is painted glass that looks just a bit antique (2). Here you see several styles of compotes with a variety of colors. We start each wedding consultation with a blank tapestry and will create a design specifically for you.
Compotes help us achieve the mounded look and can be floral heavy or looser and cascading with more space between the flowers. If you are looking for a more classical, ballroom look, you might choose a tighter design and stay true to one color family like this lavender and purple design (1).
The gold vase
If you prefer a traditional vase then you'll be delighted to find that there are some really nice votive shaped vases available to florists. We have a vase in inventory called the Desiray that is a little more tarnished than others giving it a bit of an antique feel. The Array vase is, again, a mixed metallic glass vase that is simple in its adornments and very light feeling. These are also good options for you if you are repurposing your bridesmaids bouquets throughout your space or on your head table.
The Carraway Collection offers a rounded container that crosses over all sorts of design styles. Here, we used it for a more formal wedding at the Salamander Resort and Spa in Middleburg, Virginia. Imagine a looser design with lots of color in a more rustic setting like Murray Hill in Leesburg, Virginia.
Gold and glass terrariums, gold dipped vases and columns
Brides and grooms working in a more modern venue or looking for a modern, edgier look seem to like the combination of gold and glass. We have used "geo" terrariums in more than a handful of weddings so far this year. They are a natural for Succulents oo more tropical florals, but we have also used beautiful Roses, Lisianthus and Ranunculus with greenery spilling on to the table.
Gold dipped glass vases are perfect for the couple blending glass and gold elements in their wedding and are also a great size and shape for bridesmaids bouquets.
This sleek urn shaped vase looks stunning with Phaleonopsis Orchids and greenery at the back of this ceremony at Landsdowne Resort and Spa. The glass and gold column is so stunning in the late afternoon light.
Gold Pilsner vases and stands
Tall centerpieces will work in every venue and you can definitely work with gold. We use very thin vases like the gold pilsner or a more retro looking plant stand so that all of your guests can see each other at the table.
We'll choose taller vases and stands that get wide enough at the top to support our design. The candlestick design is a classical and elegant and works well in ballrooms throughout Washington DC and Northern Virginia. I like how the pilsner vase crosses over to a more modern feel and yet can still be used to get that more formal look. The plant stand below is so perfect for a patio or tent-style wedding. The super thin legs are very sturdy especially with the wide base.
Gold candleabras, candlesticks and votives
We have a nice selection of candelabras that we can use alone on your table for that candle-only effect. We can also add loose greenery to the base or design a full floral surrounding the arms to create a tall centerpiece for your tables.
Gold votives in a mix of designs can finish the look. You can combine styles or choose a favorite. They work wonderfully in combination with clear glass or in a mix of metals like silver and rose gold.
RELATED
A mixed-metal table settings and flowers at Landsdowne Resort and Spa, Leesburg, VA.
---
King's table at Raspberry Plain Manor photographed by We Are the Cashmans. Tall centerpieces...
---