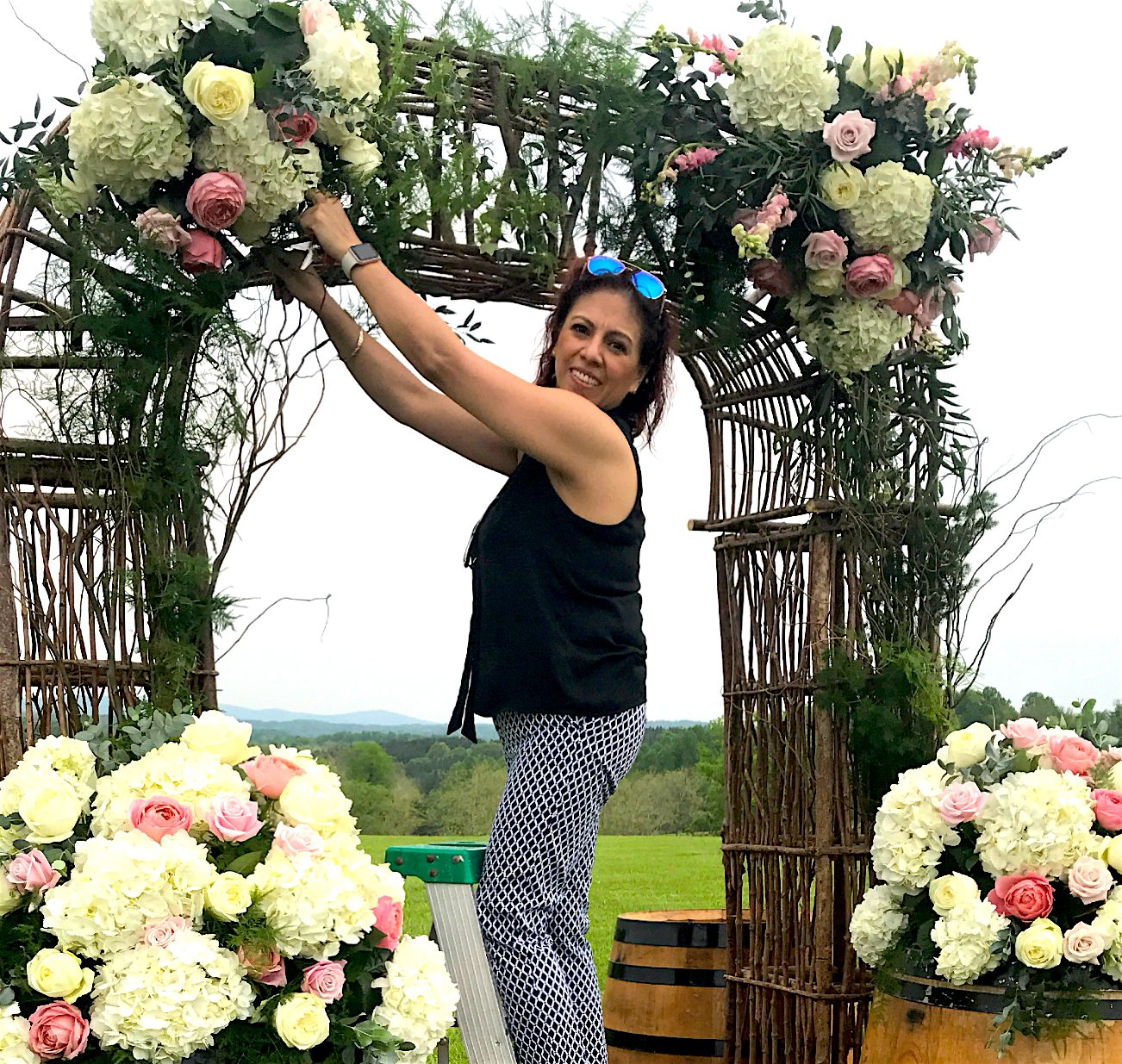 Meet the Wedding Design Team
The arrangements that leave our studio each week aren't just beautiful because they are filled with amazing flowers, they are beautiful because the team that puts them together is truly amazing.
We take flowers shipped to us from all over the world and present them throughout our community knowing that we are sharing friendship, creating romance and lifting hearts. The J. Morris Flowers team is so visibly passionate about the work that we do and it's easy to understand why. Our industry rewards creativity, craftsmanship and skillful experience. If you have ever worked with your hands, then you know the true sense of accomplishment that comes from beginning with an idea and finishing with something beautiful.
We have a wonderful line of every day and event flowers produced daily in our studio. But, it's the weddings that involve every member of our staff. Each wedding week begins with the arrival of extremely fresh and delicate ingredients that have to be handled with the greatest care. Our timeline is kept very tight so that the arrangements that adorn your wedding are perfectly poised to be brilliant. Like an orchestra, this perfectly timed crescendo requires every moving part to be right on point. Here are the J. Morris players that make that moment happen.
Jennifer Morris Owner, Floral Designer, Bridal Consultant
Jennifer is our creative director. Her vast floral experiences guide the direction for the company and our future and yet she works closely with each wedding to ensure that the quality and design exemplifies the trademark she has so carefully crafted over the last decade and more.
Jennifer is involved in every step of the process. "Consulting with our brides and grooms is still the most important moment in the execution process. These talented couples know the look they are trying to achieve guided by their own personal taste and style, they just need us to interpret that look with our flowers. We work diligently to create the perfect combination of colors and textures. I still look at every arrangement as if I am a guest sitting at one of the tables admiring the flowers. I may be the only guest that will see our work from that specific angle, but it must be beautiful."
Heather Lipp Initial Consult
Heather is the first person to reach out to you from our company. With this initial contact, she'll find out a little bit more about your wedding plans and requirements and then share some important details about the process for creating your wedding proposal.
According to Heather, "The brides are so creative, they have so many individual and unique ideas, I love to hear about the day they are planning and share some initial thoughts about how we can help them create that perfect setting.
Katie Black Floral Designer, Bridal Consultant, Purchasing
Katie received her Bachelor of Science in Horticulture from Virginia Tech. We call upon her extensive knowledge of the floral kingdom each week, yet her true talent lies in her ability to engage in the creative process with you and then interpret your vision in captivating and stunning floral designs. She is careful and contemplative when executing each design, calling upon the understanding that she gained during your consultation process.
She also works diligently with our local and non-local wholesalers to purchase the most beautiful blooms on the market, holding each stem to the highest standards. "When I sit with a bride and groom, I begin to see our flowers through their eyes. As a newlywed, I know how hard couples work to create a magical and flawless day. Each wedding becomes so important to me and that begins with the quality of the flowers."
Myriam Marquez Floral designer, Wedding Day Coordinator
Myriam Marquez has been making wedding flowers for nearly twenty years, it's truly her life's work. Every day she arrives at our studio with incredible energy, enthusiasm and passion for her work and for the brides and grooms who will celebrate their day-of-all-days surrounded by her craftsmanship. Her knowledge and creativity are seconded only by her artistry.
Your wedding day flowers will pass through her dedicated hands as she coordinates the delivery and set-up of your décor. "As the delivery team gathers in the morning, I begin right away, to talk about each wedding and what we will do to execute a flawless setup. We have to be 100% sure that every detail has been handled from cooler to truck to venue. In those moments, I ask each of our stylists to view every design with a fresh set of eyes. At the venue, I present the bridal bouquet and take just a moment to express the joy that we feel because we have been allowed to share in this day. We always have to work quickly, but I linger for a moment or two over every element, making sure that we have used precision in our placement."
Carlos Wong Logistics Coordinator
A floral company has a lot of moving pieces and Carlos has a hand in the floral production process from the moment the flowers arrive until the first candle is lit at your ceremony. Maintaining the perfect environment for fresh flowers is critical which is why Carlos emphasizes cleanliness, efficiency and organization in our studio and during deliveries. Carlos knows how important it is for us to have great partnerships with each wedding venue. "We have to make sure that each venue team is confident that our delivery and setup will be efficient and expert."
Additionally, Carlos is a craftsman with a keen artistic sense. His many talents allow us to create unique one-of-a-kind structures for your wedding. "I love to create focal points that allow our brides and grooms to express their individuality with arches, Chuppahs or even more unique designs."
Sofia Spivey Production Assistant
Sofia is our resident artist. You know, the kind that deals with paint and canvas. Now, she is learning and growing her artistry with flowers, apprentice style, and as a true student of design. In her role, Sofia works with the flowers when they arrive from the wholesaler using methods specific to each variety that help us preserve longevity. She also cleans and maintains all of our rental inventory and begins preparations for our weekend deliveries.
Sofia loves her role in the creative process, working from the recipes created for every wedding. She had an opportunity to experience the process from conception to finish with her daughter Corrine, who was married in May. According to Sofia, "It was so fun to talk about her dream wedding, to discuss the beautiful flowers and designs and to get it all on paper. I had the unique experience of working hand-in-hand with the designers to make it all happen. It was so rewarding. I love the idea that I am making that happen each week for our brides, they are always on my mind."
Carla Cameron Vendor Relations
Carla works closely with all of our vendors. In order to make your day perfectly seamless, we have to have a clear understanding from our vendors about how they want the delivery and set-up to proceed and honor their wishes as if they were your own.
"We have so many gorgeous venues in Loudoun County and Northern Virginia. I am so fortunate to be able to work with all of the talented men and women who host these weddings each weekend."
There are several other members of our staff who will contribute to your wedding day with the same commitment and passion that you'll get from the team members listed above. Members of our front desk staff, including Jaime, Kathleen, Connie and Sarah, are always available to answer any of your questions. Krista and Alyssa, who work with us part-time in the floral design process, our dedicated to every detail and are mission critical as we get closer to delivery day.
RELATED
Planning your dream wedding is an exciting journey, but it also comes with a lot of decisions that...
---
When it comes to romantic wedding flowers, nothing can beat the classic rose. With its beautiful...
---