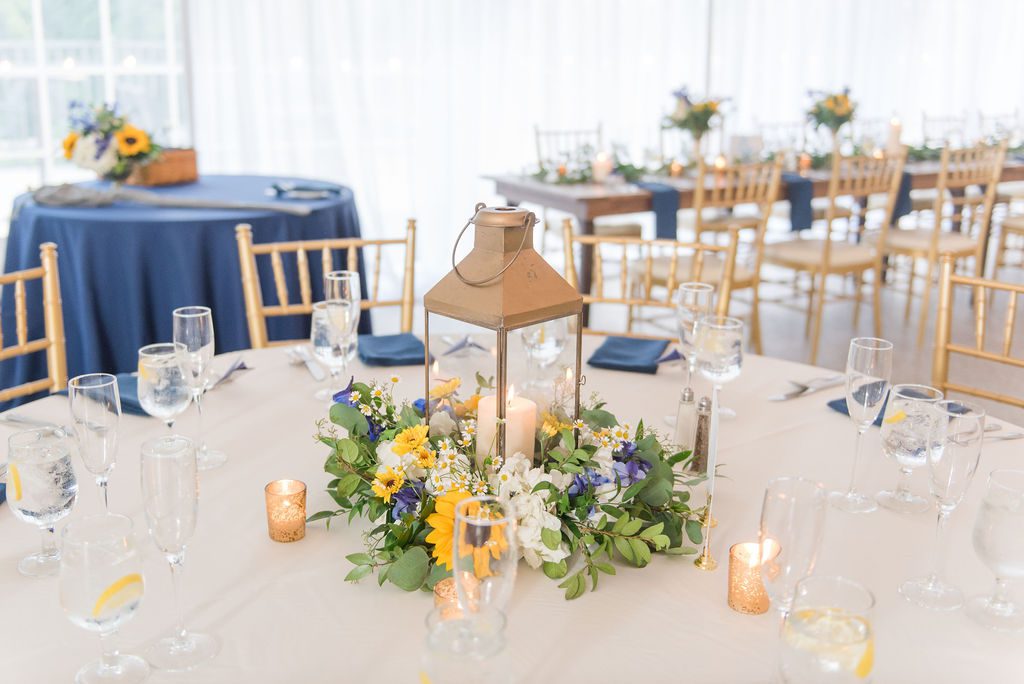 Sunflowers for your wedding and every day design
At least five or six times each year we work with couples who use Sunflowers as the signature flower in their wedding designs.
It's remarkable how definitive these couples are about the selection of Sunflowers.
Understandably, we work with a lot of clients who spend time deliberating between the flowers associated with a lot of weddings like Garden Roses, Peonies, Dahlia, Ranunculus and Lisianthus.
The time these couples spend reviewing blooms is a critical part of the consultation process.
Sunflower lovers are nearly always sold on the stem long before we've met them. In fact, they often treat Sunflowers with a bit of reverence and are excited to learn more about the flowers they can use to complement them.
We feel a similar reverence for Sunflowers. If you look at the Spring, Summer and Fall collections at J. Morris Flowers, you will almost always find a least one designs that include Sunflowers.
We love these large and expressive blooms on their own or mixed with white, blue, yellow, purple, burgundy, orange, green and even red.
Sunflowers suit a tall vase or a pitcher, like the one shown to the right, but also shorter cylinders or even a boat-shaped vase.
This year, we've been using Sunflowers since early Spring for our delivered designs and, of course, weddings.
Choosing Sunflowers for your wedding
We find that most couples choose Sunflowers because they love the cheerful look of the blooms, as if the flower itself exudes joy. Other couple choose Sunflowers because of something very personal.
They will often take a moment to reminisce about time spent with a favorite family member who loved the bloom, a special garden recalled from their childhood or a vacation spot near fields of wildflowers.
Sunflowers, and those that can tend them, deserve the reverence these wedding couples express. Growing a dinner-plate sized bloom on a tall stalk that twists toward the morning sun while fending off heavy rain and wind is a great achievement.
Sunflowers are not exclusively Bohemian or rustic. This Rust Manor House (Leesburg, Virginia) included a beautiful mantle of sunflowers, greenery and candles with centerpieces designed in gold compotes.
In fact, this Fall, we are working with a couple who will be using Sunflowers in the Dumbarton House in Washington DC.
As florists, we work with several varieties of Sunflower that come in different sizes allowing us to design for both every day and weddings.
As they arrive in studio, we parcel the blooms out based on size using the smallest for personal flowers, the largest for focal structures and mantles and the rest in centerpieces and accents.
We often work with traditional Sunflowers but love specialized varieties like Strawberry Sunflower, a bloom we tend to use in our Fall designs alongside Dahlias and Mums.
We are always available to share more about designing your event or wedding with Sunflowers. Use this link to contact us now.
RELATED
When planning a special event like a wedding, it is important to start the planning process as...
---
Stephanie Messick Photography Heather Chesky Photography
---
I am always a fan of using metals in your wedding décor and gold remains very popular across all...
---