For a stunning and sophisticated look, the dahlia flower is unparalleled in its graceful beauty. As the petals of these blooms reach out to create elegant shapes, the shades come alive with an effortless finesse.
Dahlias make a bold statement without being overpowering.
In this guide, explore the majesty of these blossoms and discover captivating floral designs.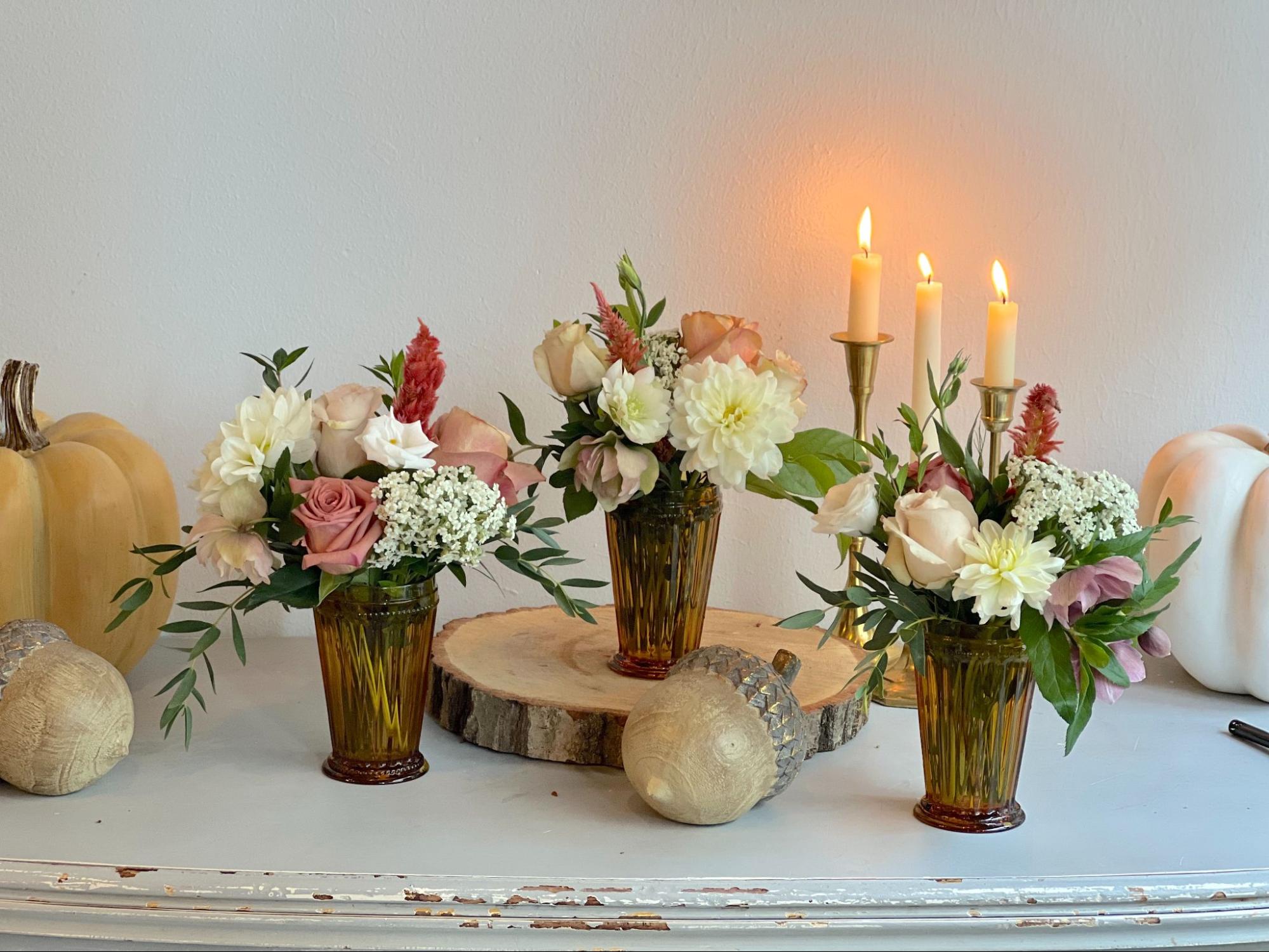 Different Varieties of Dahlia Flowers
When it comes to dahlias, there is a vast array of beauty to be discovered among the many different varieties. From voluptuous blooms with layers of petals to frilly shapes, each dahlia has its own unique charm and character. Here are some eye-catching examples:
Dinner Plate Dahlia: As its name suggests, the Dinner Plate dahlia has blooms that can reach up to 10 inches in diameter.
Cactus Dahlia: Boasting sharp edges and spiky tips, the Cactus dahlia is an exotic bloom. Its unique shape adds a whimsical touch.
Pompon Dahlia: For something truly romantic and delicate, the Pompon dahlia features relatively small, globe-shaped flowers with petals blunt or slightly rounded at their tips.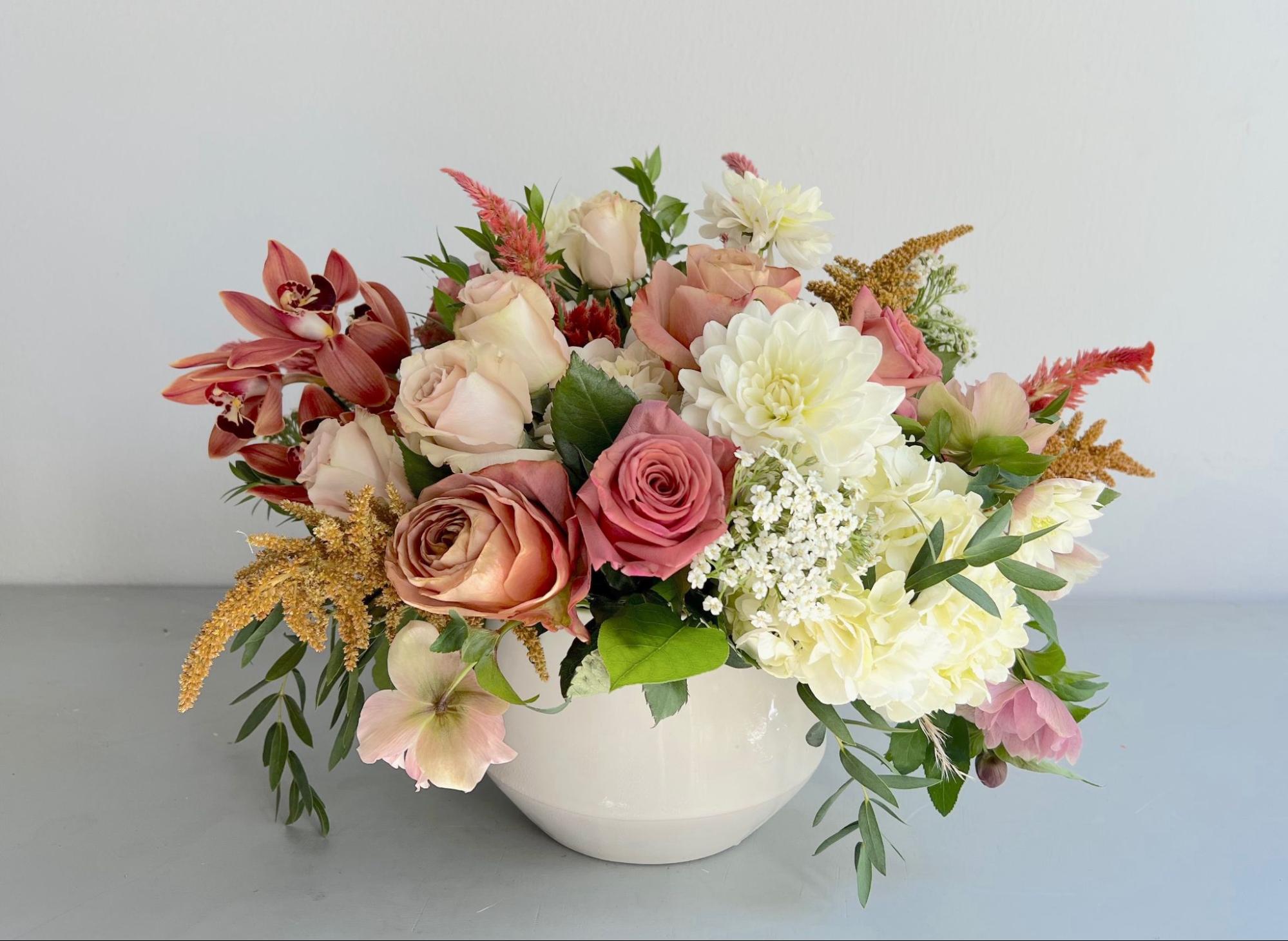 Creating a Dahlia Flower Design
When it comes to designing with dahlias, the possibilities are endless. Whether you're looking for something grand and extravagant or something more subtle and refined, there is sure to be an arrangement with dahlias that will fit your style.
Here are some ideas for creating beautiful floral designs with dahlias:
Grand Centerpiece: For a dramatic and opulent look, create a raised centerpiece with dahlia blooms.
Delicate Bouquet: For something more demure, create a delicate bouquet with cascading stems and pastel-hued blooms. This charming arrangement is sure to capture hearts and make an everlasting impression.
Modern Arrangement: For a more contemporary style, create an arrangement with spiky Cactus dahlias amongst greenery. This modern design is perfect for making statement pieces that will stand out in any setting.
No matter the occasion or season, dahlia flowers are sure to add beauty and elegance to any display
What is the rarest dahlia color?
Of the 20,000 varieties of dahlia flowers, only 10 to 20 kinds are black in color. Black dahlias are among the rarest, as they are notoriously difficult to cultivate. Other rare colors include purple, yellow, and white.
Why isn't there a blue dahlia?
You'd think blue flowers wouldn't be too big a challenge. But a huge genetic roadblock stands in their way. Dahlias lack the gene for an enzyme called flavonoid 3′,5′-hydroxylase (F3′5′H for short). F3'5'H carries out a key step along the route to an anthocyanin called delphinidin – the key pigment for blue flowers. Without it, dahlias can't get to these blue hues.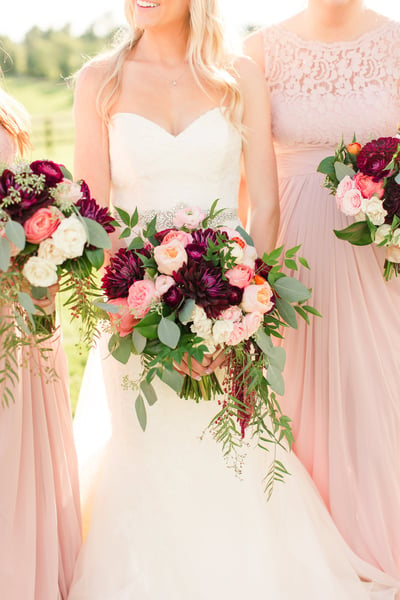 What do dahlias symbolize?
Dahlias are highly symbolic flowers and are widely considered to convey a message of devotion, love, beauty, and dignity. For these reasons, they are often used on special occasions such as weddings; when couples want to express their most heartfelt emotions for each other.
Giving someone dahlias is an unspoken way of saying you appreciate their unique individuality, grace, and inner strength that makes them so special.
Final thoughts
Dahlia flowers are a timeless choice for any special occasion or event. With so many options to choose from, it can be hard to decide which flowers are the best fit.
At J. Morris Flowers, we specialize in creating stunning floral designs. From grandiose centerpieces to delicate bouquets, we can help you find the perfect blooms for your wedding or special event.