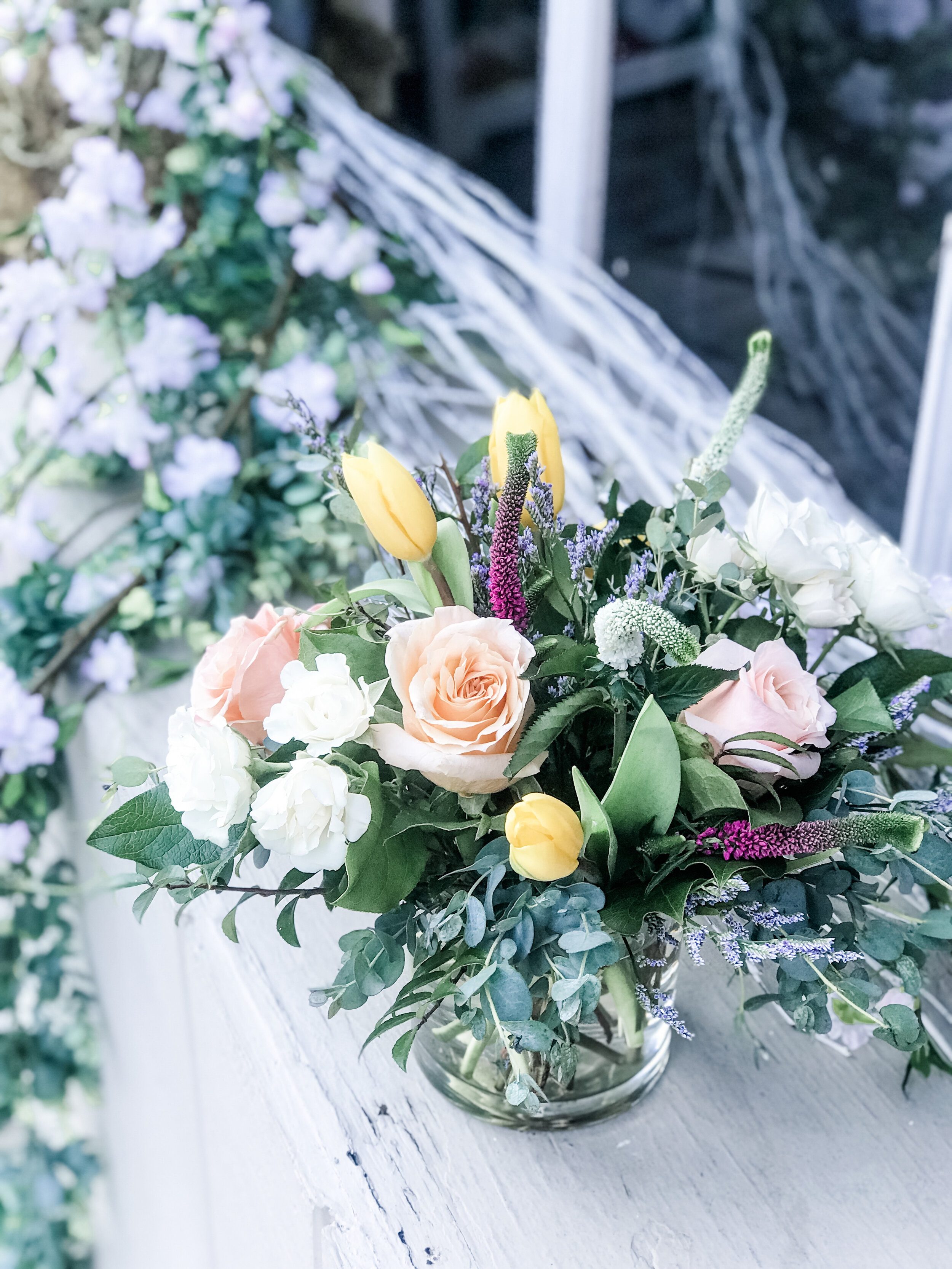 Fresh Flowers and COVID-19
How Fresh Flowers Can Help Our Mood During the Coronavirus.
Thoughts from Jennifer.
Over the course of 18 years, I have always remained in awe of the positive impact that fresh flowers can have on people. I see time and time again the way flowers can change the mood or the energy of an environment both at home and with events such as weddings, funerals, birthdays, anniversaries and holidays. I can't tell you how many times I have walked through a crowded place, on my way to deliver flowers, and the heads turn with curiosity as people ask, "What are those for?" with pure excitement! I find that fresh flowers are like a botanical magnet; I call them a head-turning, powerful, mood altering magical species because even just a simple flower has so much power for good.
With the worst days of the COVID-19 pandemic hitting the U.S., and so many places around the world, the feelings of stress, anxiety of illness, loss, and uncertainty is being felt universally, and people are turning to flowers for comfort. In the past three days I have heard from four different people, who have all said: "If I could have fresh flowers in my house every week, that would make me so happy!" Husbands, sisters, mothers, wives, friends, daughters, and family members are all calling and shopping online to (safely) send flowers as a way of encouraging cheer, love, and hope during a time that is so challenging and lonely. We recently launched our Pick-Me-Up Bouquets in order to make it easier and more affordable than ever to send, or pick up, a beautiful arrangement. These have been a huge hit in our community and I know that these flowers are making peoples days so much brighter.
Flowers and mood
According to a >> Rutgers University 10-month study by Dr. Havilland-Jones flowers aren't just pretty, it's been proven that they are a powerful mood lifting tool.
So what do flowers do for our mood exactly?
They make people SMILE. In fact according to Dr. Havilland's study, they make EVERYONE smile!
Going beyond just a normal smile, Dr. Havilland discovered that flowers evoke a "Duchenne smile—a heartfelt "true smile" involving the mouth, cheeks, and eyes." In fact she couldn't believe that during her study 100% of the participants exhibited a Ducheene smile upon receiving flowers, which I can also personally attest too, and it's incredible!
Reduce Stress and Anxiety
Beyond lifting someone's mood almost immediately, by adding flowers to indoor spaces participants in this same study reported feeling less depressed, anxious, and agitated while demonstrating a higher sense of enjoyment and life satisfaction even after 3 days! While many people have included faux or silk flowers in their decor, we find that real flowers have a much stronger impact on mood as they bring a sense of nature into the environment and add life to the room.
Positive Environments
Emotionally, flowers have been shown to elevate happiness and positivity within relationships, adding to a sense of intimacy. "Flowers bring about positive emotional feelings in those who enter a room," said Dr. Haviland-Jones. "They make the space more welcoming and create a sharing atmosphere."
Happy gifting
Participants of the study who received flowers (other participants received a candle gift or a gift basket) overwhelmingly reported that flowers improved their mood. Participants said they felt a sense of calm in the presence of fresh flowers and an overall better sense of well-being.
Now more than ever, I am convinced that fresh flowers are a necessity of life and even more so in times of uncertainty, hardship, and fear. The simple act of sending someone flowers, or ordering them for yourself, can have an immediate positive impact on mood and emotions. It's been proven.
We truly can make a difference in someone's life – one flower at a time. What can we design for you today?
RELATED
We have some very exciting flower varieties to work with in our studio at J. Morris Flowers and we...
---
Whether you are planning an event or just decorating your home, it helps to know which flowers are...
---