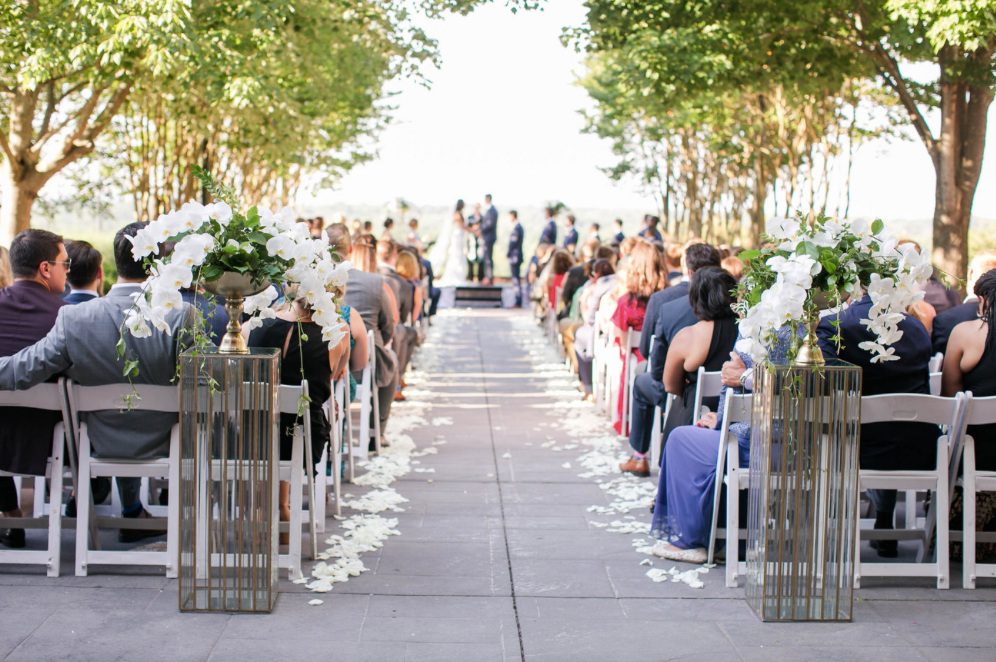 Arches & Pergolas Alternatives for Your Ceremony Décor
In the earliest stage, we'll talk about colors and design styles and look over the pictures that we have both brought to the table. Then, we'll start to ask a lot of questions about bouquets and boutonnieres, the site for your ceremony and the feeling that you are hoping to create with your décor. We'll also talk about your priorities.
For example, you may be planning to have central focal structure (arch, pergola or Chuppah) as the key component for your ceremony. They are beautiful, and, they frame your wedding party with the flowers and greens that are most important to you. The resulting photographic images from your ceremony will be lovely. But, what if you have another idea for your décor that may make a significant focal structure less of a priority? Realistically speaking, a well-designed arch can consume a quarter to even a third of your floral and décor budget. What if your reception space is your first priority? More and more couples like the idea of doing something noteworthy that will contribute to the "party-like" atmosphere of the evening. If reception decor is your main focus, we'll help you create designs for your ceremony that can be moved inside or under your tent later, a strategy referred to as repurposing.
If you have chosen an outdoor venue, you may want to consider letting the natural setting serve as the backdrop for your wedding. So many venues have chosen the sites for their ceremonies because they know wedding couples will enjoy a beautiful vista, meadow or wooded area. Indoor ceremony spaces are often designed so that there is enough space for a floral structure if you want one, but not necessary, if you don't. At District Winery, Washington DC couples stand in front of a long window that looks out on the Anacostia River. The team at Fleetwood Farm Winery, in Leesburg, Virginia, suggest that ceremonies be held in front of a massive tree on the property. Stone Tower Winery, also in Leesburg, has two sites available. The first is a spot on a hillside next to the vines with a view of Blue Ridge Mountains, the second skirts a small lake with a stately stone structure visible on the opposite shore. A stand of trees or a hedge, a brick wall in a restaurant or a sloping hillside are all ideal locations for your ceremony. We'll still use flowers and décor elements to express your style, but we'll focus on items that can be used again.
Flowers on columns, stands or wine barrels
When my nephew Jake got married in the Fall of '17, he and Susie knew that I would have done anything they asked for their ceremony. But, the hillside dotted with cows behind the ceremony spoke more to them than an arch, so we created two wine barrel arrangements in a riot of Fall colors to frame the wedding party. Later, a member of our team moved the arrangements to a buffet table in their reception space and an escort card table on the porch where their cocktail reception was held.
Arrangements in the front and the back of the space help to dress the occasion. We can design in a large compote or vase that can be used as a lower feature on your tables. Or, we'll pull flowers from your color palette and design in a low dish that sits directly on the stand. These can easily become tall centerpieces for your tables.
Chair posies and petals
Bundles of hand-tied stems attached to your chairs or the pews in your church are another way to include the flowers of the day. And, if you want to repurpose them at the reception, we'll trim the stems so that they can be put back in a vase with a half-inch of water. They make great cocktail arrangements or can be used in a table-scape.
Petals can line the side of the aisle or be spread throughout the aisle as a natural runner. Petals are one of the few items that we can't re-use, but they may still work well in your budget. Keep one thing in mind as you consider petals. It takes a lot of Roses to get the petal effect we are looking for, and while simple, this is labor intensive work. An alternative is to hire a skillful and beloved flower girl who can provide a light smattering of petals for effect.
Draping, wood doors, rings of flowers or a wreath
We can erect a simple birch pole structure with draping to add just a bit of romance to your indoor space. These rental materials will be less xpensive and can be left to serve as a backdrop for your sweetheart table.
One of our Washington DC couples used the courtyard of Via Umbria for their ceremony. We designed a beautiful wreath to hang on the wall using of the flowers she chose for in her bouquet. As this space served as their cocktail hour, the wreath continued to add to the festivities.
We love the look of doors as a ceremony backdrop. "Opening door to your future" is a theme you might want to embrace. Because they are in our inventory, the doors are a rental item and the flowers and greenery that we add can be simple but elegant.
Cylinders with candles or Lanterns
Candlelight is warm and romantic and there are several ways to include candles in your ceremony decor. This is another opportunity to repurpose decor as all of these elements can be moved into you reception space. We peppered candles and votives of varying heights on the altar at Church of the Holy City in Washington DC last December. Pairs of cylinders lined the aisle to create a wonderful warmth. This same look can work outside. Do you have a tree anchoring your ceremony? How about lanterns hanging from the branches. A lantern can be an inviting look at the back of the ceremony space and they can also line the aisle.
Ready to learn more? Contact us now about a creative consultation in our Leesburg studio.
RELATED
Photography by Ashley Relvas Photography by Life Gallery Studio
---
The year-long wait for Peonies in our garden and wedding flowers is almost behind us. Soon their...
---
Photography by Lisa Zeising for Abby Jui. Wedding Coordinator, Roberts and Co.,...
---